Lesson Five @ Varndean Adult Education (autumn term)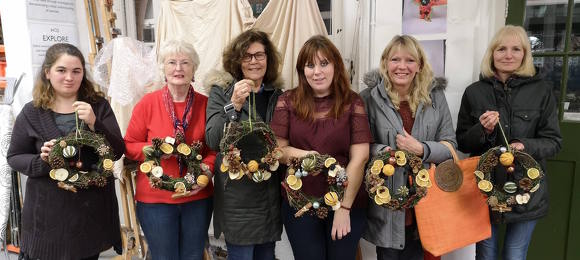 Where has the time gone... it seems we only just started this five week course and now suddenly it is the final lesson...
With the festive season fast approaching, my fabulous ladies created tricky twig based wreaths which they filled with dried fruits and cones. A labour intensive two hours session but after much groaning and a few chuckles, their wreaths were ready and looking absolutely amazing.
Nice to know that after all that hard work, the wreath will last for many years to come too ;-)
Thank you Vicky, Christine, Linda, Sarah, Sandy and Sue for being such model students. I have thoroughly enjoyed teaching you a few tricks during our five week session, and I am chuffed to learn that several of you have already booked for the Spring 2019 course!!
What a shame that lovely Jan was down the lurgey and not able to join us for this final festive session. Still, Jan caught my floral bug - which is a lot nicer and healthier than the normal one, lol - many years ago now so I know that she will keep on returning to many of my future classes and workshops...
Thank you Varndean for acting as hosts; we like the textiles room very much. See you on 5 March 2019 for more floral fun...