More festive fun at Dean's Place Hotel in Alfriston...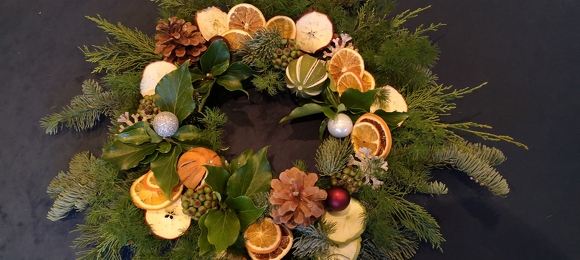 Another event at this beautiful hotel in deepest Sussex. As ever Deans Place Hotel make us all feel so incredibly welcome as we get creative in their bright and airy Garden Room.
During the morning, Jane, Krystyna, Heather, Julia, Jenny, Mary, Chris, Gerry, Sandra, Joan, Pat, Chrissy, Eileen, June, Julie, Brenda and Beverley created beautiful foam based wreaths, while in the afternoon it was the turn of Sandra, Angela, Phyllis, Pat, Jan and Linda.
Working with blue spruce, pine and tree ivies their foliage base, they all soon started embellishing their wreaths with a medley of festive materials. And as always, the room smelled divine!
Such a privilege to share my floral world with a wider audience and these two friendly groups really enjoyed getting creative; something they are all very familiar with as they all belong to Polegate quilting groups; but many have not dabbled with flowers or foliages before so were all learning new skills to add to their repertoire.
A huge thank you to lovely Eileen too who had made me a couple of adorable tree decorations; very touched!
Boy do I love teaching!