Carles J. Fontanillas's Workshop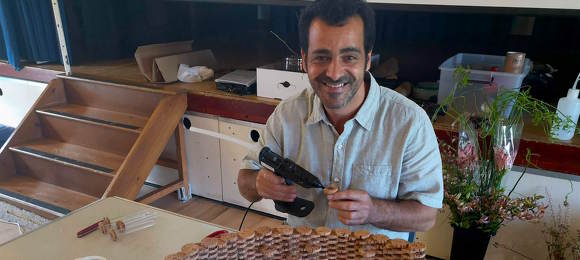 New Visions contemporary floral art group had waited a long time to welcome Carles to Sussex but the day finally arrived; very hot and humid to make sure he felt at home as he had flown over from Barcelona!
His style of workshop is very unusual in as he spends quite some time discussing how his ideas come about, where inspiration comes from etc., all accompanied by visual imagery.
He then proceeded to show three design styles - the theme being 'Cork Inspired' - before 26 floral designers got stuck in (with 2 coming along just to watch and learn!).
I chose to create a hand-tied bouquet in an umbrella shaped 'collar' and the flowers Carles had specifically requested for the workshop were simply heavenly; nude Dianthus, brown Eustoma,two tone Chrysanthemum, red Sanguisorba as well as some delicate foliage trails.
For Carles, harmony is everything and also being economical with flower styles and colours. Less is more, and similar colour harmonies work best too.
Suffice to say, the day was seriously stimulating and I count myself incredibly lucky to have had the opportunity to work with him...