FleurEx 2019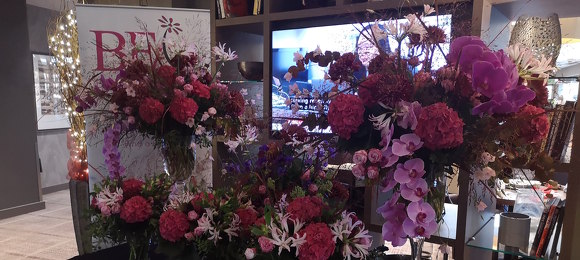 Every year, the British Florist Association plays host to a trade event aimed at florists and other floral people.
This year's event took place at Jury's Inn Hinckley Island near Leicester and hundreds of people flocked to see new innovations and products.
The Flower Circus from Holland provided entertainment over the two day period with their floral extravaganza led by their Ringmaster Jhon Koopman. He compared as master florist Martin Groen produced design upon design to wow his audience, very often using new floral lines from the trade stands present.
And double act Solomon Leong of Hong Kong and Mark Entwistle of the UK, were very entertaining giving two demonstrations, again over the two day period; one on wedding designs, the other on more contemporary work.
And up and coming florists took to the Debut Designer Stage to give 20 minute bitesize live demonstrations and in another part of the hotel, Soren Van Laer of Belgium, Tracy Rowbottom of the UK and Rebecca Hough of the UK gave floristry master classes, and to inspire and teach new techniques.
The Gala Dinner and Awards Ceremony was a glittering affair recognising the talent that exists in the floral industry.
All in all, two full on days which taught me so much...