NAFAS Beyond Basics Workshop - Part Two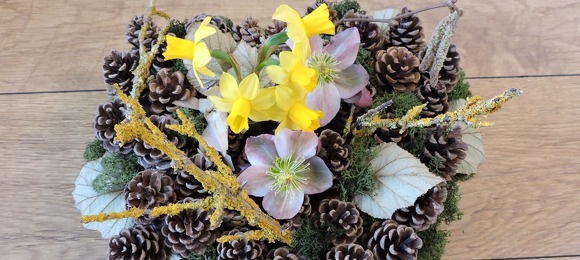 The afternoon session in Henfield Village Hall saw us making a 'Winter into Spring Bowl'. It would be fair to say that this was a slightly more relaxing project than the morning copper wire mesh session!
Before arriving, Sue had asked us to prepare the bowl by glueing dried floral foam into the container first. I chose to use a heart shaped wire fruit bowl, and unfortunately whilst glueing the foam pieces into the bowl, I burnt my left palm badly. As the bowl was wiry, I covered the sides with artificial moss (think Hornby train set scenes!) for longevity.
With our prepared bowls at the ready, we proceeded to glue small cones onto the dried floral foam, having scooped out a section in the middle first into which we placed orchid tubes.
We then arranged lichen covered twigs and other woodland treasures on top before placing small spring flowers into the orchid tubes - I chose to use fragrant Tete-a-tete Narcissi as well as some Hellebores. A few birch bark swirls as well as a few Rubus Tricolor leaves completed my design.
As Sue explained, she wanted our bowls to look like a wintry forest floor where spring is boldly beginning to poke through. And all 22 of us managed to achieve just that, although it would be fair to say that I will always think of a huge, painful blister whenever I look at mine...