Chelsea Flower Show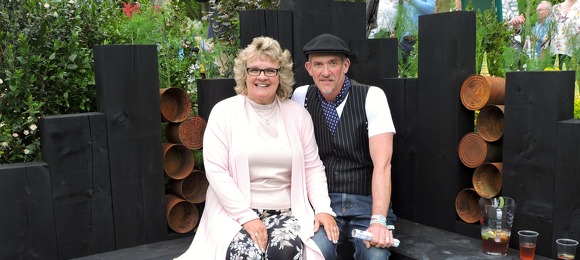 I was lucky enough to return to the Chelsea Flower Show to take another look at the various show gardens and floral designs and this time, compared to Press Day earlier in the week, the weather was lovely and warm and summery.
The Floral Studio was displaying more floral exhibits in its second session of the Show, and I was delighted to discover that Mig Kimpton secured a Gold award in the Bizarre class while Tan Strong got a Silver in the Limelight one.
Whilst there, the People's Choice Award was announced and it went to the Sentebale garden "Hope in Vulnerability' which was designed by Matt Keightley; the charity was founded by Prince Harry and Prince Seeiso. By sheer coincidence I was standing almost next to this garden when they announced it over the tannoy system! And within minutes the BBC were there with cameras and crew as well as presenters Monty Don and Joe Swift. I managed to have a quick chat with Joe Swift so that I can feature him in Flora International later in the year.
The highlight for me was definitely being invited onto Sean Murray's show garden on Main Avenue - he was the winner of the recent Great Chelsea Garden Challenge; such a lovely humble man who will hopefully go far in his new career. At 54 years of age, and having worked as a nurse he is now hoping to switch careers to garden design instead! I wish him all the luck in the world...