Half Moon Design and Lotus Leaf Hand Tied Bouquet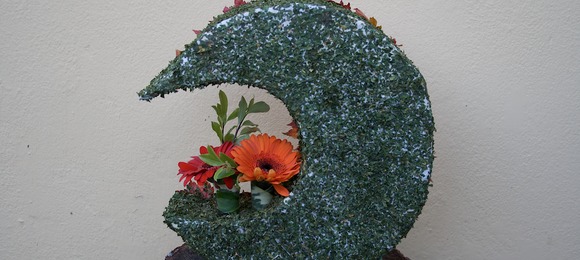 A time consuming design was the order of the day for our morning session; a cardboard half moon container which we made from scratch and which we then covered in our chosen material.
I decided to get "2-4-1" and thus chose to glue on dried parsley on one side and fiery red acer leaves on the other. My fellow arrangers chose to work with different materials such as lotus leaf pieces, seaweed sheets or glycerined oak leaves. All of the containers looked stunning with a couple of specimen flowers in tubes added to complete the design.
As the morning design took so long to complete, Cally decided to show us how to prepare a quick hand-tied bouquet using lotus leaves as "compartments" to place autumnal flowers within. Absolutely stunning and the lotus leaves have a nice smell to boot!