Jan Mason at Steyning Flower Club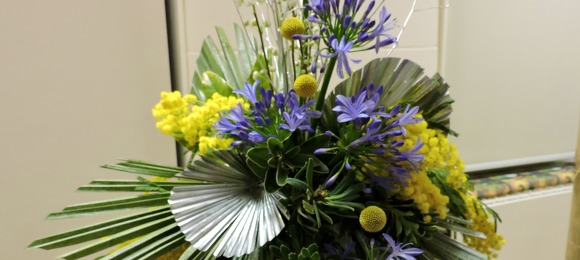 Jan is shortly undertaking her NAFAS exams to become a fully fledged Area Demonstrator, and I have to say that she performed very well indeed to an appreciative crowd - only her third dem to date.
She created six arrangements using various containers to hold her flowers in; there was a Grecian style urn which she had draped with a piece of fishing net as well as shells and other marine paraphernalia and which she then topped with Agapanthus, Mimosa, Craspedia and architectural foliage; a triple bamboo stand which she filled with curly Phormium leaves as well as Protea flowers, a cork bark trunk which held pink tulips, wax flowers and Lisianthus as well as varying hues of green foliage; this was complemented by a bearded old man container filled with the same flowers; and then came a blue and white soup tureen filled with pink lilies, Lisianthus and roses as well as white Veronica and two tall silver candles, and finally a tall wooden vase filled with pink lilies and Lisianthus accompanied by scented Mimosa as well as some tall stems of pussy willow.
It goes without saying that everyone present wished her all the very best in passing her exams.