Lana Bates in Haywards Heath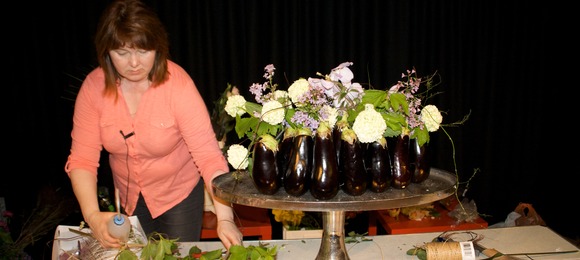 Lana was born in Russia but now lives and works in the UK; a Chelsea Gold Medalist, Florist of The Year 2008 and BFA Florist of the Year Finalist 2010, she was recently voted one of the top fifty florists in the country by the Independent newspaper.
During her two hour session, she created many designs and offered many tricks of the trade to all those present. It would be fair to say that Lana is a big fan of test tubes and wires and she showed the versatility of these. However, her design featuring more than a dozen aubergines had to be seen to be believed!
The loveliest thing for me was that I ended up sitting next to Pat Town and Deirdre Marcantonio - both from Steyning Flower Club - who told me I should come along to one of their club meetings as soon as possible. They said that the club consisted of a very friendly bunch of ladies and I would thus hopefully become so enamoured by it all that I would consider becoming a member...