A flamboyant front facing arrangement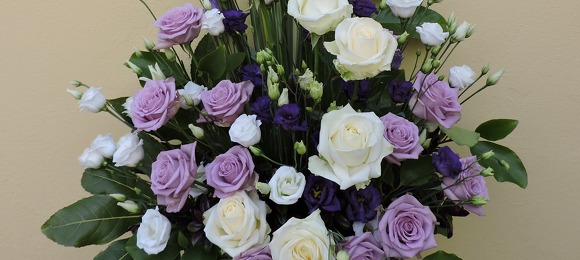 For our final session of this ten week flower arranging course, tutor Kate told us to go all out and produce something on a large scale.
Having recently bought a blue and white tureen in a charity shop in Rottingdean, I was keen to incorporate this into my design. As the tureen was pretty large, I wanted to ensure the flowers would do it justice and thus chose white Avalanche roses, lilac Armando roses as well as white and purple Lisianthus. For foliage I chose Phormium, Fatsia, Griselinia and purple Hebe.
By the time I had finished, the design stood 90cm (3 feet) tall and I totally loved it!
Thank you Kate for an excellent course - I look forward to doing another one with you soon again. And good luck Yvonne, Sally, Susan, Nicky and Tracey in your future floral efforts; I know you have all gone away properly inspired!