NAFAS Beyond Basics Workshop - Part One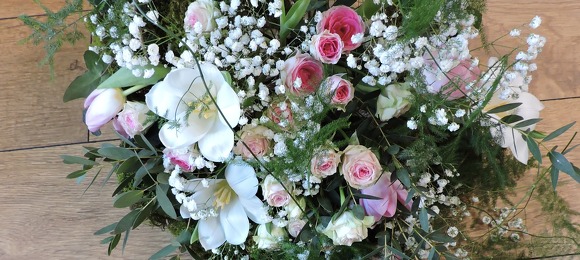 Twenty two ladies met in Henfield Village Hall on a foggy morning to challenge their floral skills with this excellent and inspiring teacher.
This was my first time to take part in these regular NAFAS Beyond Basics workshops - but it won't be the last.
The brief was to make a hand tied Easter Bonnet in a copper wire frame - no mean feat! I was especially challenged as I had burnt myself rather badly on my glue gun the day before and thus sported a huge blister on my left palm. Not ideal when you are trying to cut mesh with wire cutters...
We all started with a 50cm length of copper wire mesh which we shaped and added a wire handle to. We then covered the frame with either moss, fancy ribbon, Cobra or other dried/glycerined leaves (or M&S carrier bags which had been cut into strips beforehand if time had allowed!).
I chose to work with one of my favourite natural materials - moss - which I had gathered from local Brighton woods, and I stitched these pieces in place with ivy vines. A central square in the rectangular mesh was left bare for the hand tie to be placed in.
The flowers for my hand tie consisted of pink and white tulips, Mimi Eden spray roses as well as Gypsophila. And for foliage I chose Eucalyptus and asparagus fern.
At the end of the day, Gillian gave a critic on each design and awarded the top prize to two bouquets - very chuffed to discover that mine was one she picked!