Tan Strong at the Windmill Theatre, Littlehampton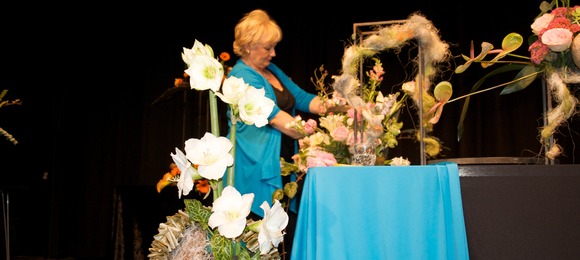 Tan Strong is a NAFAS qualified National Demonstrator, National Speaker and a qualified Teacher and Judge. Tan has won RHS Gold, Silver Gilt, Silver and Bronze medals at the Chelsea Flower Show and in June 2011, she got a third place at the 2010 WAFA World Flower Show in Boston. Furthermore, she was Commended at WAFA in Dublin in 2014. As if that is not enough, she has also won 1st, 2nd and 3rd places at various NAFAS UK National Competitions.
Her demonstration included more than a dozen fabulous designs and she taught an appreciative audience many floral secrets. My favourite was learning how to make a web design with hot glue and cold soapy water!
And considering she turned up the week before - having got her dates totally mixed up - to find a locked theatre and then having to drive home with everything and come back a week later with fresh supplies, was truly impressive.