Winter Moments with Flowers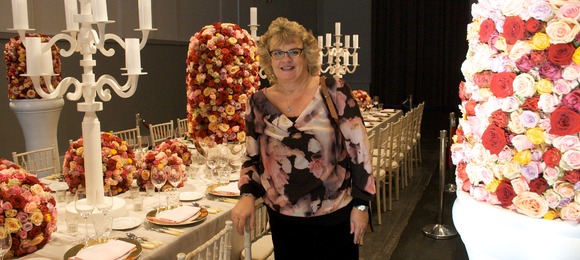 Having attended last year for the first time but only for the day, it was so wonderful to have longer this time. And to have John with me too.
Arriving in Bruges on the Friday, we checked into our central hotel (Hotel Ter Brughe) and were then able to explore the city on foot.
What can I say but that the Belgians sure know how to put on a Christmas display; most shops and restaurants are beautifully decorated and at night, when all the lights are turned on, the place looks simply magical.
They have an ice rink in the central square too and standing there on a crisp cold night watching skaters fly by, and sipping a strong, hot mulled wine at the same time, takes some beating for a Scandinavian lass who does miss her cold and snow!
We spent many hours on Saturday visiting the flower show and once again, I was blown away by the creativity. Talk about being inspired! Room upon room is filled with wonderful creations by so many talented people and whilst we were there, Soren Van Laer gave several demonstrations too, which were very interesting.
And... at the end of the day, it would be fair to say that I shopped till I dropped in the flower mechanics shop.
And as if all that wasn't enough, before leaving the city late Sunday afternoon, we also managed to take in the snow and ice sculpture show - again some incredible creations to be seen.
All in all, a fabulous three days!