Workshop with Julie Brownlee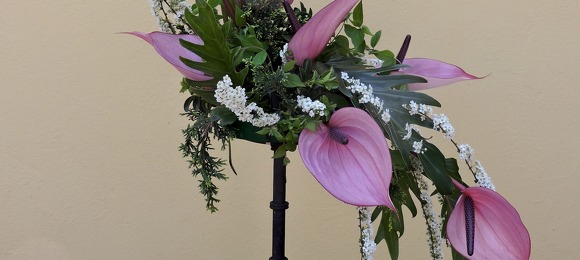 Having recently met Julie at Steyning Flower Club, I was delighted to discover that she runs flower workshops in Woodmancote Parish Hall. I was less delighted to learn that the session I attended was actually her last as she has decided to concentrate on her demonstration work only in the future! Hey ho...
A total of fourteen ladies got to grips with this rather tricky design under her expert tuition and at the end of our two hour session, everyone went home with a most impressive design. In mine I used blush pink Anthuriums and gorgeous white Spirea teamed with fir and Philodendron type leaves.
Hopefully we will all be able to meet up again in the not too distant future if we could only tempt Julie back to teaching on a regular basis... Watch this space, eh!