Varndean Adult Education evening class 5 (autumn 2019)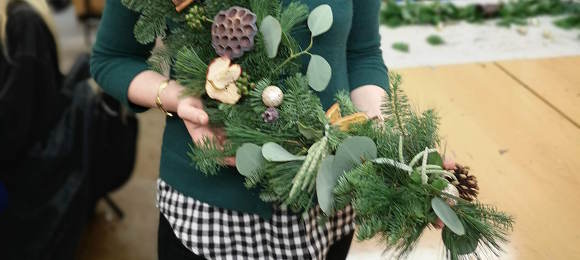 For our final lesson for the season, Jan, Julie, Karen, Kelsy, Lulu Nora, Sandy and Shelagh got stuck in and created fabulous festive garlands just in time for the Christmas season. Sadly Linda was away on business and thus missed this particular design... ;-(
Working with spruce and pine ensured the lovely textiles room smelled simply divine and the various, natural embellishments that my festive girls added made every swag extra special.
I just know that there are a lot of very lovely looking mantlepieces in the Brighton & Hove area now!!
It has been an absolute joy teaching this floral bunch the art of flower arranging and I am very much hoping that many of them will return to future courses and workshops time and time again...
Ho ho ho!