YouTube Demonstration to a NAFAS Flower Club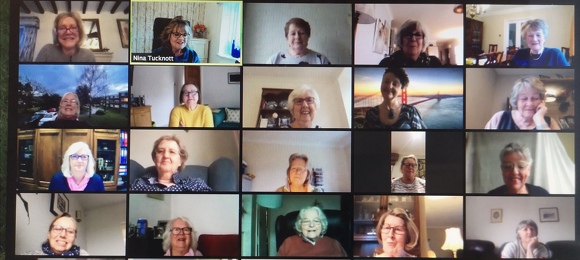 It is so fabulous when flower clubs embrace our new virtual world and 40+ members and guests of Oxted & Limpsfield Floral Design Group did exactly that this afternoon.
They watched, in the comfort of their own homes, my Colour Me Beautiful YouTube demonstration and then more than half of them join in in the Zoom Q&A session which followed straight afterwards.
Their beaming faces and thumbs up signs were absolutely wonderful to see; they so enjoyed a bit of quality me-time during these tough times, and also so enjoyed seeing each other, albeit virtually.
Very well done OLFDC; you are lucky to have such a proactive and forward thinking committee which are giving you these virtual opportunities.
One day, when the world opens up to face-to-face meetings again, I very much look forward to seeing you all in person, but meanwhile I thank you for all the love and the positive feedback you gave me. It made my day!