Courses and Workshops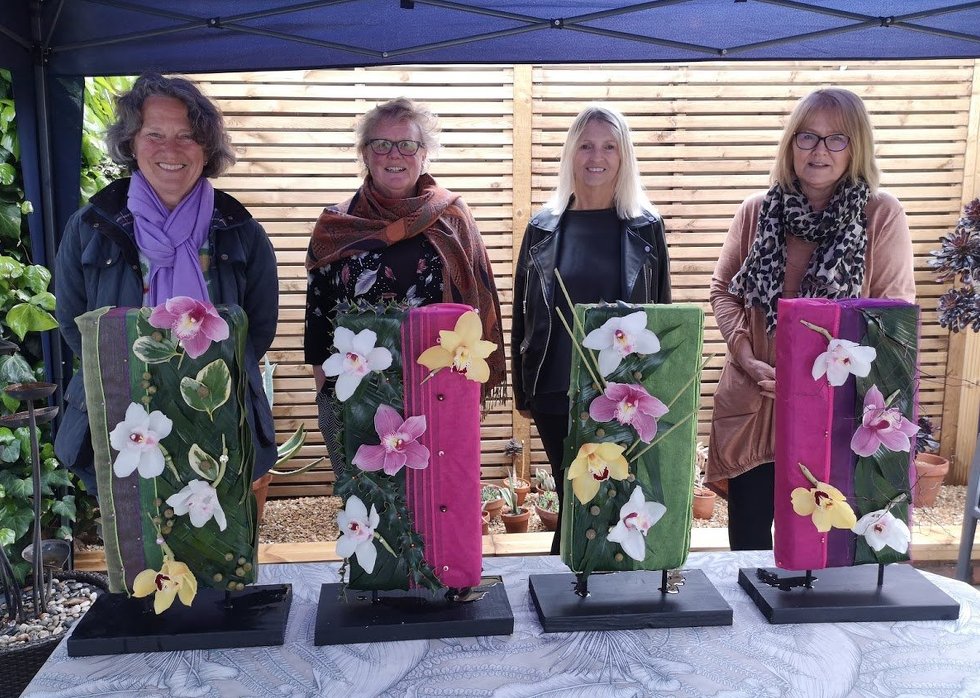 Nina runs monthly workshops in Hove at Bishop Hannington Church Youth and Community Centre @ 38 Holmes Avenue, BN3 7LD on a Saturday afternoon (2.00pm - 4.00pm) and each workshop costs £35.00 per person including all flowers, materials and sundries. These take place in the medium sized hall to ensure plenty of space and adequate ventilation and the dates for 2022 are Saturday 10 September 2022, Saturday 22 October 2022 and Saturday 19 November 2022. Each workshop runs for two hours (2.00pm - 4.00pm) and Nina very much looks forward to getting creative with you then! Just give her a call on 07775 024142 to book your place.
The ever popular annual Christmas Wreath Making Workshop @ Bishop Hannington will take place on Saturday 3 December 2022 (2.00pm-4.00pm) and costs £45.00 per person. This will be in the large hall to ensure plenty of space and ventilation for all the festive fun! Again, just call Nina to reserve your space.
Monthly workshops in Nina's delightful sheltered garden commenced from May 2022 onwards, and remaining dates are as follows: Saturday 23 July 2022 and Saturday 13 August 2022 (2.00pm-4pm). These cost £30.00 per person and include all flowers, foliage, mechanics and sundries as well as the ever popular home made cake of course. If the weather is inclement then the workshops are run inside Nina's gazebo. Again call Nina to book your place.
Nina also teaches at adult education colleges and forthcoming courses are available to book as follows:
The regular evening 'Floristry for Beginners' course (7-9pm) commences on Tuesday 27 September 2022 at Aldridge Adult Learning in Chalky Road, Portslade, BN41 2WS for ten weeks. Please contact them direct on 01273 422632 to book your place. More details can be found on their website www.aldridgeadultlearning.com.

Looking further ahead, another ten week floristry course @ Aldridge Adult Learning starts again on Tuesday 10 January 2023. Again, contact them direct to book your place. And yet another ten week one commences on Thursday 27 April 2023. Please note that each course during the academic year covers different design styles (in total there are 30!) so you do not have to attended from the autumn term onwards but can jump in whenever it suits you.
And the regular course at Varndean College Adult Eduction is also back in the autumn, with the five week evening 'Art of Flowers' course (7-9pm) commencing on Wednesday 16 November 2022. Please contact the College direct to book your place on 01273 546604 or enrol online @ www.varndean.ac.uk/adulted.
Even further ahead, another five week course at Varndean College Adult Education commences on Wednesday 1 March 2023 so get that in your diary too!
Nina also runs private workshops in many care homes in the Sussex area including Maycroft Manor Care Home in Patcham, Deerswood Lodge Care Home in Ifield near Crawley, at Somerset Day Centre in Kemptown in Brighton and at BUPA Haven Nursing Centre in Telscombe Cliffs. It goes without saying that such workshops are only available to residents of course.
As a qualified NAFAS Area Demonstrator, Nina also regularly undertakes demonstrations for flower clubs and similar; if you would like to book her then please call her on 07775 024142. Details of where she is appearing this year and beyond are listed under the 'Demonstrations' section.
And as life has moved more and more into a virtual world, three of Nina's demonstration themes are now available as YouTube LIVE STREAM DEMONSTRATIONS not only to individual floral enthusiasts but to flower clubs too. Full details about this exciting venture can be found on https://flowerswithnina.uk. Or call her!
Also, Nina qualified as a NAFAS/OCN Teacher (Level 3) in June 2021 and is now running workshops for NAFAS flower clubs nearby and a bit further afield too...

Finally, did you know that you can purchase workshop vouchers too; £50.00 buys a 1-2-1 session making a seasonal design in the comfort of your own home (if you live in the Brighton & Hove area; further afield will cost a little bit more).
Workshops for hen parties and other group events can also be arranged so do give Nina a call to discuss matters further and to obtain a quote tailor-made to your specific requirements...
Just to thank you for a great morning doing the summer wreath - I hope I can do it again. I have told my friends about you! Take care, Phyllis. Just wanted to say a huge thank you to you for doing the Steyning Flower Club workshop. The rose cage was tricky but I think you handled it, and us, very well! See you soon, Yvonne. Thank you for the hand tied workshop; my flowers are still in full bloom. I have showed it to all my friends. Take care, Phyllis. Thanks so much for an enjoyable afternoon making a 'horn of plenty' - I learnt so much. With every good wish, Alma. Great to see you again. I added more foliage at home to my 'horn of plenty' and also made the chrysanths shorter as you suggested - all looks good now! Cu soon, Yvonne. Thank you Nina for a really lovely afternoon at your Christmas wreath making course; very inspiring and a great group of ladies. I enjoyed it sooooo much :) Thank you Nina. xx, Denise Brown Thanks again for a great afternoon, we both really enjoyed it and have taken lots of tips and ideas on board. We love your enthusiasm and it's a pleasure to be in the group. Hope to see you again in the near future, Love Kate & Mim Really enjoyed yesterday making my horizontal table centre. Thanks. Myra Bucher x Enjoyed the day making a horizontal table centre; thank you for making it so enjoyable. Ann Raynsford Really enjoyed it, Nina, making a horizontal arrangement. And I used up all the foliage you gave me! Katie Gray ;-) Nina; I really enjoyed yesterday and the stacked flower pot arrangement looks great in the kitchen window. Love, Myra xx Thanks for the lovely lesson yesterday making the stacked flower pot. X Katie Lovely to meet you - I had a lovely day making my romantic heart. I am hoping to come along to the next one at Shabulous. Catch up soon. Suzy Eames xx Thank you so much for the first lesson tonight at Varndean. I can't say how happy tonight has made me.... I'm grinning like a Cheshire cat; haha! Leanne Barnard xx Thank you again for all your help during the wedding candelabra workshop. It was so useful for Natasha and myself as well as being so much fun. Many thanks. Nancy Davey Great afternoon working with Easter flowers. My creation is now hanging on my door! Sarah Sutherland-Booth Thank you so much for your guidance and help with the leaf sphere design; once again I am truly grateful. love Leanne xx Thanks for another wonderful class making the leaf bowl. See you next week. Vicky Pateman xx Nina, thanks so much for the special lesson on how to make the stacked flowerpot arrangement which I missed because of being on holiday. I also enjoyed making the floral Easter cake arrangement and now have two lovely displays on my dining table! Jill O'Connell For Mother's Day, I booked my mum a place on your Spring Flower Arranging workshop at Varndean and having just spoken to her, she is over the moon with what she created and the info she learnt from you yesterday. I am so pleased for her. Thank you. Claire Peters on behalf of Jadviga Payne Thank you for making us all so welcome at your Varndean evening class last night. I really enjoyed making the l-shaped design, and I am looking forward to the next lesson. I am excited about the prospect of learning something new and by the possibility of hopefully creating some interesting and pretty arrangements over the next six weeks. Best wishes, Jan Crouch I really enjoyed the class last night, and, ultimately, with your assistance I was very pleased with my stacked flower pot arrangement. Thank you so much for your guidance; the tweaking of the rose and flower heads made all the difference. Already thinking about the flowers I will choose for next week's trug design. Very much looking forward to it. Best wishes, Jan Just to say thank you for a wonderful U3A course which I thoroughly enjoyed and learned a lot from. you are an inspirational teacher. I am so disappointed to be missing the last class; a wonderful course and so many ideas. Jill O'Connell Just wanted to say how much I have enjoyed the U3A course and my sorrow that you won't be running another one for a while however it is great that you will be training to demonstrate - very well deserved. Love Myra xx I feel so lucky to have been on your U3A course - I so enjoyed it. Thank you for your encouragement and do keep me informed of any upcoming events. Wishing you good health and good luck. Love Ann Raynsford x Just to thank you for a wonderful U3A course which I thoroughly enjoyed and learned a lot from. You are an inspirational teacher. I am so disappointed to be missing the last class and can only think the date was not in my diary when booking our holiday in Oporto. Thanks again for a wonderful course and so many ideas. Love Jill O'Connell Hi; That was a nice instructive afternoon making floral jewellery. You are very good at the teaching and demonstrating how to do it too. It was just what I needed after a rather busy week! love Julia Elliott x Thank you for a great and enjoyable floral jewellery afternoon. It was lovely to see you again. I hope to sign up for your Varndean courses too! The corsage I made went down very well; "Gorgeous", I only hope I can recreate one for the wedding, I am sure I can. Well thanks again and see you soon. Duncan Ward As always I really enjoyed the Floral Jewellery workshop, I am very pleased to have wired some flowers and leaves and used the Stemtex tape to make a buttonhole. It is great to have the opportunity to learn new skills in flower arranging. Looking at the different pieces I made, I think I like the headdress I made on the comb the best with the individual agapanthus pips mixed with the pink hydrangea flowers and foliage. It lasted another day! Once again very nice and talented people at the workshop. See you in September at Varndean! Luv Jan Crouch xx Thank you for a lovely afternoon Nina making the bottle bouquet designs - and to the rest of the group. Enjoyed this a lot. Duncan Thank you for yet another excellent flower arranging workshop today. Absolutely loved it! Magical afternoon, you certainly inspire us all and give us the confidence and encouragement to produce our own individual arrangements. Really lovely group of people, it was nice to see familiar and new faces. All talented people. I am very happy with both my bottle bouquet arrangements, but my favourite is the first one. I managed to get them home safely and have added another rose to the milk bottle arrangement. I will definitely book onto the next one in November. Love Jan xx Just wanted to say thanks - I enjoyed being creative with Jan at your raised wreath workshop on Saturday afternoon and meeting your other "trainees". Hope to see you again at some stage. All the best, Rosemary Myles It was good to see you on Saturday and once again I loved the raised wreath workshop. Pleased with my wreath and I have made a few additions. I was slow to get going; I think we had so many lovely bits and pieces we could choose to include in the wreath I was rather undecided at the beginning. However with your guidance and encouragement I am very happy with the result. I really enjoy the workshops, the atmosphere is friendly and comfortable. Everyone is very keen to get started on their designs and we are all amazed with our creations which are always so very different. Again, a very nice group of people. See you at the next one on December 3rd! Love, Jan Crouch xx Thank you again for a wonderful workshop in Shoreham on Saturday. I so enjoyed learning the new techniques you showed us; in particular the manipulation of Aspidistra leaves, which proved to be time consuming but produced such unusual and pretty results, transforming our posy pads making them look almost Oriental. Absolutely loved the afternoon and I am very pleased with my arrangement which has been much admired by friends. Can't wait for the next workshop. Love, Jan xx Thank you very much for inviting me and driving me to Sussex Trugs yesterday. I felt very honoured to be there. I had a fabulous day and very much enjoyed making the flower arrangement in the white trug. I am very pleased with it. Love the colours and flowers you chose for me, they are perfect. love Jan xx Hi Nina, Thank you for a fabulous afternoon & for making me feel so welcome. Had a super time making the hand tied bouquets & the gluten free cake was an added bonus! Once you know any further dates let me know & I will book up. Looking forward to seeing you next month. Warmest wishes, Tracy Kittivanakul Thank you for a lovely workshop; enjoyed the eggstra special design - even with the chick! Put your feet up tonight and have a nice glass of wine, you deserve it. Love, Duncan Ward So lovely to see you today. Thank so much for a fun but productive afternoon. Had a wonderful time creating an Easter Eggstravaganza including sheep!!!!! Looking forward to joining you next month. Warmest wishes, Tracy Thanks Nina. I really enjoyed my first floral workshop making our Easter designs. love Melissa Montgomery xx Thank you so much for yet another wonderful class. I had a very enjoyable time & am delighted with the results. My Dutch Master style arrangement has already been much admired including family in Bangkok & friends in Sussex, New York & Nice. Talk about Floranina worldwide! Looking forward to the next one. Warmest wishes Tracy Thank you for a fabulous workshop yesterday making a floral arrangement in the style of a 'Dutch Master' painting. I had a lovely time and with your guidance and encouragement throughout and assistance with the essential final tweaking I am very happy with my arrangement. It was great fun to make such a large arrangement filled with so many flowers, some of the colours clashing, but the result looking OK. Really the enjoyed the afternoon with the very nice ladies in the group. Very much looking forward to the next workshop and to learning some new techniques... Love, Jan xx It was lovey to return to your Flower Arranging Course at Varndean on Tuesday evening. As always with your classes there was something new to learn and something interesting to make. You certainly inspired us to produce an arrangement with only a few flowers, buts lots of foliage, each looking very different from one another's; they all looked amazing to me. I am very happy with mine but most of all I just loved being there with everyone quietly making our individual arrangements. Thank you Nina, it was a great evening. I am very much looking forward to next week's class. love, Jan Crouch xx Thank you again for the course at Varndean. I had such a wonderful time exercising my creative muscles and getting my brain going again! Love, Lydia Matthews x Thank you for a wonderful session making the parallel line arrangement, loved every moment and learnt so much! A very enjoyable morning... Sue Harris Had a super Day, exploring some floral craft making a parallel line design... a really fun day with Nina at Floranina, superb expert Tuition and learnt lots! Thank you Nina... and a lovely display to bring home too! The lovely ladies present were all so creative! Kirsty Harding Thank you for giving us a wonderful workshop at The Bridge last week arranging summer flowers in a parallel design. This was my second attempt at a parallel arrangement under your guidance and I was very happy with the result this time. I am pleased you suggested that I used the phormium leaves to cover the base, it is not my usual style so I was out of my "comfort zone" but I was delighted with the different effect it gave the arrangement. The flowers were simple and it just shows what a lovely arrangement can be made from a few flowers, grasses, seed heads, wild flowers and foliage. It is fascinating as to how varied each of the ladies's arrangement looked at the end of day. As always I really enjoyed the workshop and meeting the other ladies and thank you for your continued encouragement and advice which is very much appreciated. I look forward to the next flower arranging workshop at The Bridge, a long wait until Christmas! Love Jan Crouch xx This is rather late Nina, I had meant to let you know immediately after the 5 week Varndean "Flower Arranging Course for All" how much I loved being back on a course with you again following last year's which was my first introduction to flower arranging. It was lovely to learn some new techniques and re-visit some I had already tried before. Thanks to your tuition and inspiration I am completely hooked on flower arranging and enjoy every opportunity to learn and practice arranging flowers. All the ladies on the course seemed as enthusiastic as me which was lovely. Thank you very much Nina... I am hoping that the planned course for the Autumn at Varndean will come to fruition; in fact I have already enrolled! Love Jan Crouch x Hi Nina, A huge thank you for such an amazing afternoon workshop! I had a brilliant time & loved working on the flower frame. I really appreciate you holding this one to one session & making such an effort. It was fab! Looking forward to September. Enjoy the summer! Love Tracy x Thoroughly enjoyed Saturday's workshop making the autumnal cake and would like to book for the next one on 21 October too please. With thanks, Lesley Lee Thank you once again for a wonderful workshop. Time just flies by. Absolutely thrilled with the results. Working on the floral 2 tiered cake was a real treat! Along with a slice of your amazing homemade gluten free cake. One of the best cakes I have ever eaten. Looking forward to joining you next month again... Tracy xxx It was lovely to be flower arranging again with you yesterday at your Autumn themed workshop in Shoreham. I realise now how much I have missed your classes and workshops over the summer so I am delighted to be back in the swing of flower arranging again. I was very pleased with the "Autumn Cake" I made; you had provided some glorious coloured flowers for us, especially the orange/red Atomic roses. As always I am grateful for your guidance and inspiration which is very much appreciated. I thought the arrangements the other ladies made were lovely, each one a little bit different. I am looking forward to October and the next workshop and the evening classes at Varndean too. Love, Jan xx I absolutely loved making the Parallel Design during Lesson 1 @ Varndean Adult Education. See you next week; can't wait! Cheers, Sue Boswood Absolutely love the course @ Varndean. Such a nice atmosphere and very enjoyable. Thanks! Sam Boswood Just to say how lovely it is to be back at Varndean on your Autumn Flower Arranging Course. This is the first time I have attended the course in the Autumn and I am enjoying the range of gorgeous colours and different textures of the flowers and foliage we are using. I really enjoyed making the "vertical" arrangement last evening and am happy with the result which was improved by your guidance and reassurance throughout. We are all fortunate to have such individual attention from you on the course and I look forward to the next class and learning something new! love Jan Crouch xx Thank you so much for a super afternoon. I have such a fabulous time & can't believe where the time goes to! This week's workshop making the succulent pave design was really interesting & highly motivating. I enjoyed learning new skills & working with different mediums. it was good to have to work outside my comfort zone! Looking forward to seeing you next month. love Tracy PS. Cupcakes were amazing! A big thank-you for a lovely afternoon; we thoroughly enjoyed your workshop making a succulent pave design. My twin sister Christine was so inspired she is now determined to find a local club/workshop in Bournemouth! Carol Ockenden x Thank you once again for a wonderful afternoon at your Workshop in Shoreham on Saturday arranging succulent plants with a few of the most beautiful lilac coloured roses in a pave design. It was one of those arrangements which evolved as one progressed, for me somewhat slowly, but I was very happy with the final arrangement which was achieved with your inspirational suggestions to help me with the design. It was good to learn some new techniques and how to use succulent plants in an arrangement. A unique and interesting experience amongst a very nice group of ladies and I am very much looking forward to the next Workshop in November. I have had a few comments questioning whether they were real plants and roses! Most were amazed by it. A huge thank you Nina. Love Jan Crouch x Good Evening Nina. Wanted to say a huge thank you for such a wonderful workshop. Absolutely loved creating the garland & using techniques learned earlier in the year alongside new wiring skills. Working with the evergreens was extremely interesting & I enjoyed seeing the garland develop so quickly. The garland looks amazing & am delighted with the results. My best work so far! It was great to meet the Hove ladies & to spend time with you & Jan. Am so disappointed not to be able to join you at the other Christmas workshop but really looking forward to 27th January. Much love, Tracy xxxx What a lovely way to start the festive season, thank you so much for your guidance in making the wired wreath and for such an enjoyable lunch at Deans Place Hotel. best wishes, Mary Kinnear Thank you so much Nina, thoroughly enjoyed the course and I am very pleased with my festive wired wreath! Look forward to having you back in the Spring. Samantha Mills, Events Manager, Deans Place Hotel x Thank you for a truly delightful flower arranging morning during my 1-2-1 workshop. I absolutely love my Christmas table arrangement. I had no preconceived idea of what it would look like but I am thrilled to bits with the result. Very sumptuous and eye catching with the gold against the velvety red Naomi roses and spruce. Gorgeous. Can't wait to show it off ! Thank you for your patience with me and your never ending inspirational ideas. I very much appreciate all the time you devoted to me today. Thank you. Wishing you a wonderful Christmas and I look forward to seeing you in January. Love, Jan Crouch x Thank you Nina for our session making a festive candle table centre. Enjoyable as always. Love Melissa Montgomery xx Thank you for yesterday; we enjoyed the leaf manipulation workshop very much. I am sure we will be back, and of course we will spread the word of our lovely experience to our fellow flower arranging friends! Once again thank you. Best wishes Chrissie Woods 😊, Sue and Sylvia Thanks Nina. I had a lovely time making the bouquet and collar; it was great fun doing the design. Very enjoyable and it was so nice too meet up again. Lots of love Jenni Davis xxxx Hi Nina, so wonderful to see you & Jan again & to meet the other very talented ladies. Thank you so much for a well crafted afternoon making the contemporary bouquet with its collar. It was extremely interesting to work with various textures including felted yarn. The orchids look stunning! Looking forward to next month's workshop... much love, Tracy xx Thanks Nina. I had such a wonderful afternoon learning some more new techniques creating a contemporary bouquet with a collar. As ever I find your enthusiasm and encouragement truly inspirational. Thank very much Nina. Very happy with my design, although it took me a while to do it! Good to see Tracy again and meet the other ladies too. love Jan xx Thank you again Nina, great to have you back for another great event and looking forward to seeing you in a few weeks for the Easter workshop. x the events team @ Deans Place Hotel, Alfriston Hi Nina, thank you for a fabulous afternoon at Deans Place Hotel for a Mother's Day workshop. Loved it; especially the beautiful roses. love Jan Crouch xx Mum and I had a really lovely time at your Mother's Day workshop at Dean's Place Hotel. Great workshop! Lisa Sherlock (and Louisa Cooper) We had a lovely time at your Mother's Day workshop. Looking forward to seeing you soon again, Mary Kinnear and mum Chris Hi Nina, Thank you so much for holding such a wonderful & enjoyable workshop making a caged Easter design. It was absolutely lovely working with the different textures & mix of florals. I can't tell you how delighted I am with the results! Not only was it great to see you & Jan again but it great to meet Emily & Jo. Also a huge thank you for finding the time to bake you delicious Gluten Free cakes. Am already looking forward to next month's workshop... Have an amazing Easter!!! much love Tracy x Dear Nina, Thank you very much for another brilliant workshop on Saturday, I thoroughly enjoyed it and I am very happy with the arrangement I made! Once again you have the vision to inspire us to create an unusual "caged" basket arrangement with an Easter theme. So many different aspects came into creating this particular arrangement and so lovely to do something new at each of your Workshops. Needless to say I am looking forward to the next one in a month's time. Thank you Nina for your continued encouragement and inspiration. We are very lucky to have found you ! Love, Jan xx What a fantastic afternoon; so lovely to be outside in the sun in your garden. I will remember it for a long time. Thank you for inviting us to your home to create the topiary trees. They all looked amazing. I took mine straight to my friend Shelagh in Shoreham and she loved it so much I ended up giving it to her! love Jan xx Just to say a HUGE thank you for your holding use an amazing workshop today in your garden. I absolutely loved creating my lovely topiary tree. I had a brilliant afternoon working with a stunning collection of flowers and greenery; the time just flies by; it is so relaxing. The final result has been much admired. So looking forward to next month's workshop already. much love, Tracy xxxx I really enjoyed being back at the Varndean flower arranging evening classes last Tuesday, it felt like I was back at home! It must have been very rewarding to see 11 familiar faces from previous classes amongst the 15 ladies; a testament to you and your teaching skills, we just keep coming back for more! It was a very enjoyable evening and I loved working with tulips again. They come in such a wonderful range of colours, pastel and vibrant, and are surprisingly adaptable. I am sorry to miss tomorrow's class but I will just look forward to the following one. Love and best wishes, Jan Crouch xx Hi Nina, Thank you for hosting yet another amazing workshop in your stunning garden. Absolutely delighted with my contemporary table setting. It was great fun to work with such a wide variety of flowers & greenery. Along with being creative with yarn etc and being able to add different textures to the table setting. Looking forward to next month's workshop. love, Tracy xxx Thank you for the brilliant workshop on Saturday, I really enjoyed making the contemporary table arrangement and learning some new techniques. As usual I was rather slow but ultimately I was very happy with my design and thank you for your encouragement with the finishing touches. Having watched the magical wedding of Harry & Meghan earlier in the day it was such a pleasure to be sitting outside on your garden patio arranging flowers in glorious sunshine. Perfect. Thank you Nina. love Jan xx Thank you Nina for a fabulous 5 week course at Varndean. love Diana Passalacqua x Really enjoyed the afternoon making a floral handbag and the orchid fascinator. Thank you, Rosie McLafferty x Thank you so much for yet another amazing workshop. Absolutely loved creating the floral handbag & fascinator. The workshop was extremely interesting and it was super to revisit leaf work. And I enjoyed working with the various shades of pinks & lime. Truly delighted with the results and both floral works of art are still going strong! If only Ascot was this week as could of worn my stunning orchid fascinator. much love Tracy xxx Many thanks Nina, really enjoyed this afternoon creating the candlestick centrepieces. Looking forward to the next one. Cheers Tracey Mulvaney Hi Nina, Lovely to see you after such a long summer break and thank you for a very creative afternoon. My floral candlesticks look fabulous on the mantlepiece and I am extremely pleased with the results, so much so that I am inspired to do these and more for autumn and Christmas! Love, Kitty xxxx Hi Nina, thank you for a brilliant workshop today. The floral wall hanging was quite a challenge but for me but I enjoyed it. Eventually my design came to life and I am very pleased with the result. The new venue is excellent too. Love Jan Crouch xxx Hi Nina, I am so very pleased with my arrangement this evening. Thank you for your encouragement, as always. Really enjoyed starting another flower arranging course at Varndean Adult Education. Much better with smaller number in class and everyone benefitted from your individual attention. Thought all the fan shaped arrangements looked great; all so different. Brilliant start to the five week course. Looking forward to our next session... Love Jan Crouch xx Hi Nina thank you for inspiring us all last night at Varndean to make such amazing horizontal table arrangements. I loved making mine and with your guidance and suggestions I am very pleased with it. Still breaking away from my usual pink flowers! Thought all the arrangements looked fabulous, much of it due to your tweaking at the end. Can't wait for next week's class and seeing everyone again. Love Jan Crouch xx Hi Nina, Thank for such an interesting workshop making the wired bouquet holder. Great tuition in a relaxed & friendly atmosphere with delicious cakes as well! I really enjoyed it. Michelle King x Hi Nina, Thank you for a wonderful time at your workshop this afternoon. I had a fantastic time. Enjoyed decorating the ring with the bling and the roses and chrysanthemums you provided for the bouquet were stunning. Very happy with the end result! And such a nice group of ladies too. Love Jan Crouch xx Dear Nina, Thank you for another great workshop @ Varndean yesterday making the candle stick table centres. Best wishes Linda Naylor Hiya Nina, So lovely to be back being creative. Anna and I had such fun creating our christmas wreaths at Dean's Place Hotel this morning. As always your guidance was much appreciated & resulted in a amazing looking wreath. The hotel was delightful & lunch was fabulous. Already looking forward to next years Xmas treat there! See you Saturday for even more seasonal cheer... Much love Tracy xxxx Dear Nina, thank you so much for the 1 to 1 wreath making session yesterday. I had a wonderful time, it was great fun and I feel very privileged to have had your undivided attention for the evening. I am absolutely thrilled to bits with the wreath - love the colour combinations against the unusual straw base. Can't wait to hang it on our front door. love Jan Crouch xx Hi Nina; Once again a massive thank you for holding a great workshop and baking such an amazing gluten free cake. Absolutely adored Saturday's leaf manipulation workshop. What a fabulous way to start 2019! Delighted to be back being creative. It was great to grapple with more advanced methods and to see a professional in action! Thrilled with my table setting. See you next month. Tracy xxx Dear Nina, thank you again for making my Birthday so special with a birthday cake with a sparkler too during the workshop. Really enjoyed the afternoon and loved doing leaf manipulation again; still as slow as ever but very pleased with the arrangement. Beautiful orchids Nina, you are very generous - they just kept coming! Looking forward to next month's workshop already. love Jan xx Hi Nina; thanks for a great leaf manipulation workshop on Saturday. I am sorry I can't make the February one but look forward to seeing you for the March one making a floral crown. Best regards Sam Cole Thanks for last night's first lesson at Varndean creating a parallel line; it was very inspiring. Looking forward to next week's challenge! See you on Tuesday, Love Margaret Jones Hi Nina; thank you for a brilliant evening @ Varndean. So good to be back there; realise now how much I miss it between courses. Very happy with my parallel line arrangement after your magical tweaking. Looks lovely on the mantelpiece. Love Jan Crouch x Thanks for letting me know about lesson two @ Varndean; I do so enjoy the course and next week's task sounds very interesting! I love the parallel line creation we made for lesson one and have found a perfect spot for it at home in front of a photograph of my daughters and niece. See you next week. Sandy Radford x It was good to see you again and thank you so much for such a useful and enjoyable workshop today, Nina. I am delighted with both my floral crown and my wrist corsage. Yummy cake too! See you soon, Michelle King x Hi Nina - thanks for another great lesson - my cat loved the floral crown and sniffed each flower!I look forward to seeing you on the 6th April for another lesson. Sam Cole xx I just want to say how much I've enjoyed taking your class at Varndean Adult Education. It's been a really relaxing and mindful activity. Mother's Day is in May in the US And I'm going to try to take my mom to a flower making course in California. Thank you for teaching me this new hobby, I'm looking forward to taking more of your courses 😊 Kelsy Nelson Thank you so much for the floral handbag workshop at Deans Place Hotel. Me and mum Bo had an amazing time. Faye Reece Thank you Nina. Me, daughter Sophie and mum Beryl all enjoyed the floral handbag workshop at Deans Place Hotel so much and our creations are looking even better now that the roses have opened up. Sandy Radford x Hi Nina, Thank you for your words of encouragement regarding yesterday's Easter themed workshop; I couldn't achieve such fabulous results without you & your talented teaching skills & keen eye! Had a brilliant afternoon & delighted with my Easter floral artwork. Tulips & roses are starting to open & work so well with all the various greenery etc. Please thank your husband John for making the wooden stands too! As always such a super fun way to spend the afternoon being creative & lovely to see a mix of regular & new ladies. Absolutely adored your homemade gluten free apple cake; could be my new fav of all your cakes... although rather fond of the vanilla & raspberry one! So looking forward to the workshop at Deans Place Hotel next week along with May's floral hoop workshop. Happy days!!! much love, Tracy Kittivanakul xxxx Dear Nina, After an initial complete lack of confidence, I really enjoyed myself and was delighted with the end result making my Easter design last Saturday. Thank you for your kindness and patience and see you again, soon. With best wishes Angie Moore Dear Nina..thank you so much for the such a happy day "creating" at Deans Place...the delicious cream tea was an extra bonus but I loved making the floral handbag arrangement... a very happy group as well... you always think of such lovely things to do...we shall miss seeing Sandy's Tuesday arrangements from Varndean... no more until the autumn... you will never have a more enthusiastic pupil... she always gives a hundred percent... have a lovely summer as I hope to do and I hope to have the chance to meet up again... love Beryl Mason Thank you Nina for such a brilliant Easter floral table display workshop at Deans Place Hotel yesterday. Loved working with stunning colour palette and amazing selection of flowers. Absolutely adore my spring display. Really delighted to see all those skills I have learnt from you put into practice. We had such a wonderful time and the lunch as fabulous. It was great to see some familiar faces in the group too. Already looking forward to this year's Christmas workshop at Deans Place Hotel! See you in May in Hove for the floral hope workshop. Much love, Tracy Kittivanakul xxxxx PS. Thank you for my Easter egg! Hi Nina, I really enjoyed the workshop at Deans Place Hotel today creating the Easter table centre, and I would love to join you for workshops in Hove too. Many thanks, Anna Carter We had a really wonderful time with you at Deans Place Hotel and were so proud of our Easter arrangements. I organised a tennis club open day on Easter Saturday and used the arrangements as table decorations on the refreshments table. They were much admired and a real talking point and some of my friends were interested in coming along to another workshop with me! It was really lovely to meet you and thank you for giving me and my mum such a brilliant day. Clare Greenwell Thank you for a fabulous workshop today and for providing such stunning flowers and foliages. Great fun to make and I am very happy with my orchid floral hoop. Love Jan Crouch xx Hiya Nina, so lovely to see you and the other ladies today. Had a fabulous afternoon creating my stunning floral hoop. Loved working with eucalyptus, Veronica and orchids. The house is smelling amazingly fragrant! Thank you for baking too; the gluten free cake was outstanding hence my scoffing two slices! Can't wait until next month's wonderful workshop... Much love Tracy Kittivanakul xxxxx Many thanks for another great class making the floral hoop. I have already sent the money across for next month's one! Love Sam Cole Thank you for an enjoyable afternoon and for coming up with more creative floral designs for us to attempt; this time making petite table centres. Wonderful homemade gluten free cake too; you are a star! Looking forward to next month's Dutch master workshop already... love Tracy Kittivanakul xxxx Thanks for another class yesterday making the petite table centres. I have just paid for next month's session! Have a great month and see you in July. Sam Cole x Thanks for the petite table centre class on Saturday; I really enjoyed my first time and want to come along to the next class in July too and bring along a friend! Thank you, Beth Masters Hiya Nina; a massive thank you for hosting a wonderful Dutch Master workshop today. Really motivational to be able to work with such a stunning array of flowers. The roses are stunning and today's colour palette was inspirational! Love it, love it, love it! And as for the yummy homemade cake... wow. Good to see the ladies again along with meeting some new faces. Missed Jan's quiet elegance. See you soon, much love Kitty xxx I really enjoyed Saturday creating the Dutch Master arrangement; it takes me to a calm place! Anna Carter xx Hi Nina, It was a great class last Saturday - everyone had such lovely and different Dutch Master designs. See you again in a few weeks. Bye for now Sam Cole x Hi Nina, thank you so much for hosting such an amazing day making European floral art. Loved every minute of the workshop. Been a tough few weeks so today was much needed. You and your great workshops make a huge difference to life. Had a fabulous time with you and the other ladies. Really kind of you to not only find time to produce such a wonderful lunch and yummy homemade cake but in opening up your lovely home too. Please thank Sam for bringing that amazing cheesecake too! Catch up soon, much love Kitty (Tracy Kittivanakul) x Hello Nina, Thank you so much for a wonderful day creating some European floral art. It was lovely to see everyone and to share in such a delicious meal. Your home is beautiful and I really enjoyed the 2 floral arrangements. I have paid for the 21st September and look forward to your cornucopia design - I am sure it will be brilliant as usual. In the meantime take care. Love Sam Cole x Hi Nina, thank you for a fantastic workshop creating the European floral art designs. Had a really great time with you and the girls and enjoyed making the arrangement and embellishing the glass vase. Very happy with the results! The cake and lunch were perfect too. You made it a very special day Nina and I loved being there. I realise a lot of planning and thought went into running the workshop at home, especially with the challenging weather! Thank you and I look forward to seeing you soon. Love Jan Crouch xx Hi Nina, Just wanted to say thank you for last week, and thank you for including me in the select group creating European floral art! I really enjoyed it, and it was so lovely of you to make us all lunch as well. Look forward to seeing you again soon. Many Thanks, Anna Carter Thanks for the lovely 1-2-1 class you held for me the other week creating an autumnal cornucopia - I have been meaning to drop you a line to say how much I enjoyed it. I am sadly not able to come along to the October workshop but look forward to seeing you again in November. See you then. Take care. Love Sam Cole xx A massive thank you for holding such a brilliant workshop today and for inspiring me to produce a glorious autumnal leaves display. My favourite time of the year so it was great fun to work with such super colours and selection of flowers. Cake was absolutely yummy and I really appreciate your finding the time to bake! Roll on 2 November for the next workshop... much love Kitty xx Loved the workshop on Saturday and pleased with my autumnal arrangement. So great to be doing flower arranging again, I have missed the workshops over the summer break and when I was away, Love Jan Crouch xx Dear Nina; thanks so much for yesterday's lesson at Varndean. My wall hanging is now on my front door providing a jolly welcome! Looking forward to next week's lesson. Julie Sheridan x Thanks for another lovely class yesterday creating a festive candle centre; I am certainly getting into the Christmas spirit now. love Sam Cole xx Hi Nina, It's been so lovely spending time with you during the 5 week Varndean course and I've learnt lots of valuable techniques that I'll continue to use. I've sent you a photo of the garland we made during our last session; happily at home on my fireplace to welcome in the festive season. Have a wonderful Christmas with your family and hope to see you again next year! xx Julie Sheridan Hi Nina; I really enjoyed the 5 week Varndean course and your teaching, learnt a lot and has inspired me to do more. I definitely need to get to know the flowers and plant material better as well. Looking forward to the all day Saturday workshop too. Kind regards Karen Grist Hi Nina, I did enjoy the 5 week Varndean course very much and feel more confident now to do my own arrangements. Best wishes for 2020. Shelagh Harman Thank you Nina for the festive Saturday workshop @ Varndean; my mum Beryl, my daughter Sophie and I enjoyed it enormously. Thank you for your patience and the beautiful materials that you provided. See you in the New year; have a Happy Christmas. Sandy Radford x Dear Nina, thank you for sending the photo of 3 generations; a memento of such a happy day as it always is when we come to your class... you arrange it so well, we are never disappointed. Just to wish you a happy festive season and new year to follow and I hope we shall be able to meet up again in 2020. Love Beryl Mason Hi Nina; thank you for such an enjoyable afternoon working with corrugated paper. Had a fabulous time and loved being just the four of us. Love Jan Crouch xx Hi Nina; brilliant to be back being florally creative & lovely to see you, Jan and Sam. Thank you for hosting such an amazing workshop today. Really enjoyed working with the corrugated paper along with the super colour palette and beautiful selection of flowers. Great way to spend a January afternoon... plus having some yummy cake too! See in February. Much love Kitty x Dear Nina; thanks for another great class - as you will see from the picture I have emailed you, my cat, Ginger, was making his usual inspection to make sure my corrugated paper design was up to scratch! I have just sent you payment for the class in February so see you then. Love Sam Cole xx Hi Nina; what a truly fabulous way to spend an afternoon in February: I am delighted with my stylish succulent table display. Thank you for coming up with such varied and challenging concepts. It was extremely interesting to handle and prepare the succulents in order to use them. Although at times vexing!! And how wonderful that every single design looked completely different. Loved the colour palette of vivid greens and purple and then with a pop of red. Lovely to see all the other Floranina belles too! Much love Kitty xxx Dear Nina… thank you for once again arranging such an enjoyable afternoon in your lovely garden… it was a very happy time creating the unusual stacking design. And thank you too for rescuing my arrangement after I accidentally destroyed it!! So sorry about that… love Beryl xx